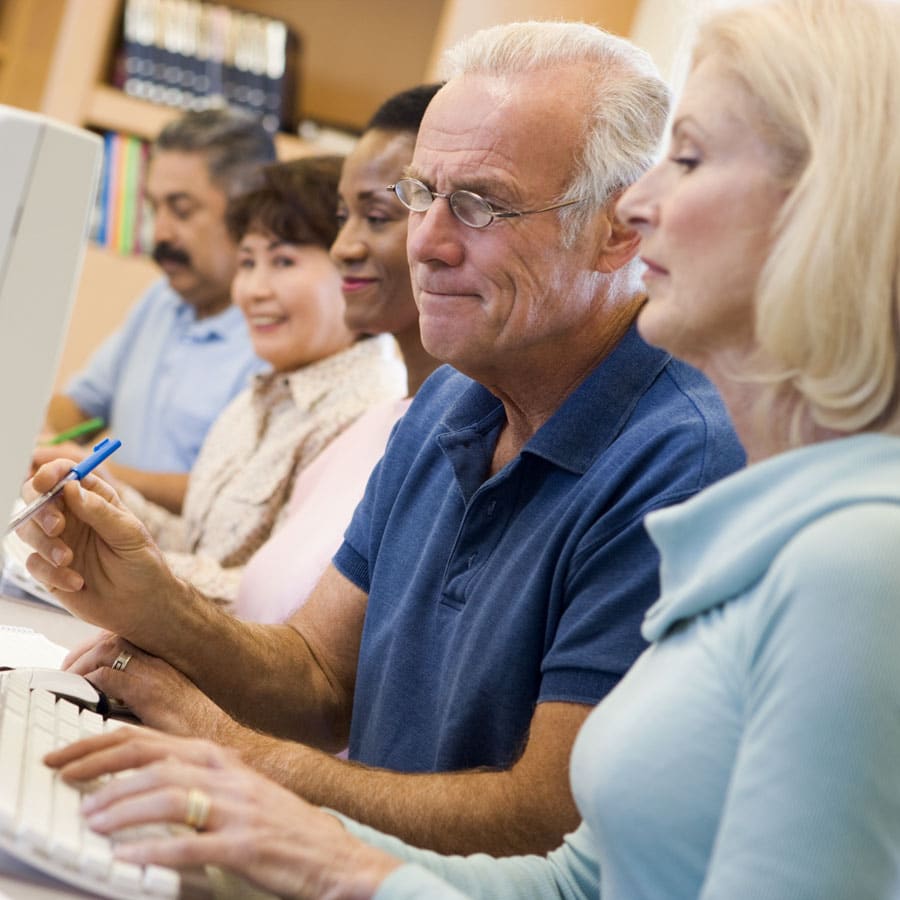 The Library is here to help you navigate through an ever-changing landscape of technology! We offer an array of classes in both hands-on and lecture styles as well as individual technology assistance.
Classes
Microsoft Word; Getting to Know your iPad; Internet Basics; Twitter Basics. These are just some of the classes held periodically throughout the year, utilizing library desktop computers. Please see our latest Newsletter for current offerings, or call 728-6241 (option 4).
Individual Technology Assistance
Book- a-Librarian! (by appointment)
Are you in need of technical assistance? Book a 45-minute appointment with our technology librarian for free one-on-one help with any of the following topics and more! Basic Computer /Basic Internet /e-mail /apps /Microsoft Office: Excel, PowerPoint, Publisher, Word /smart phones /digital cameras & photo management /iPad/Kindle/Nook / Free Downloads via Overdrive and 3M/ Social Networking/Facebook/ Twitter/Pinterest/…and more! Please note that device repair is not included. Please see our latest Newsletter for hours of availability, or call 728-6241 (Option 4).
Drop-In Tech Help (no appointment needed)
Need quick answers to tricky questions about your tech device (laptop, tablet, reader, phone, camera…)? Free tech help is available on Monday and Thursday mornings (10am-1pm) and Wednesday and Thursday evenings (5:30pm-8:30pm) at the Reference Desk. No appointment is required. Please note that computer repair is not included.
We have 15 desktop computers for walk-in use by adult patrons with a valid Hampton Bays library card for 2 hours of computer use per day. Other Suffolk County library cardholders, and guests without a library card, have access to guest terminals for 60 minutes of computer use per day.
We are a wireless hot spot! Just select "Hampton Bays Public Library" when viewing available networks on your laptop, tablet, or phone.  Wi-fi is also accessible in the library parking lot.
Scan your documents and photographs for free with our Scannx Scan Station; email them or save to your flash drive.  Printing, faxing and photocopying are also available.
We have 10 Mobile Hotspots available for patrons to borrow for a three-week loan period, making it easy to have wi-fi on the go.  Use it when home or traveling! Ask for them at the Circulation desk.