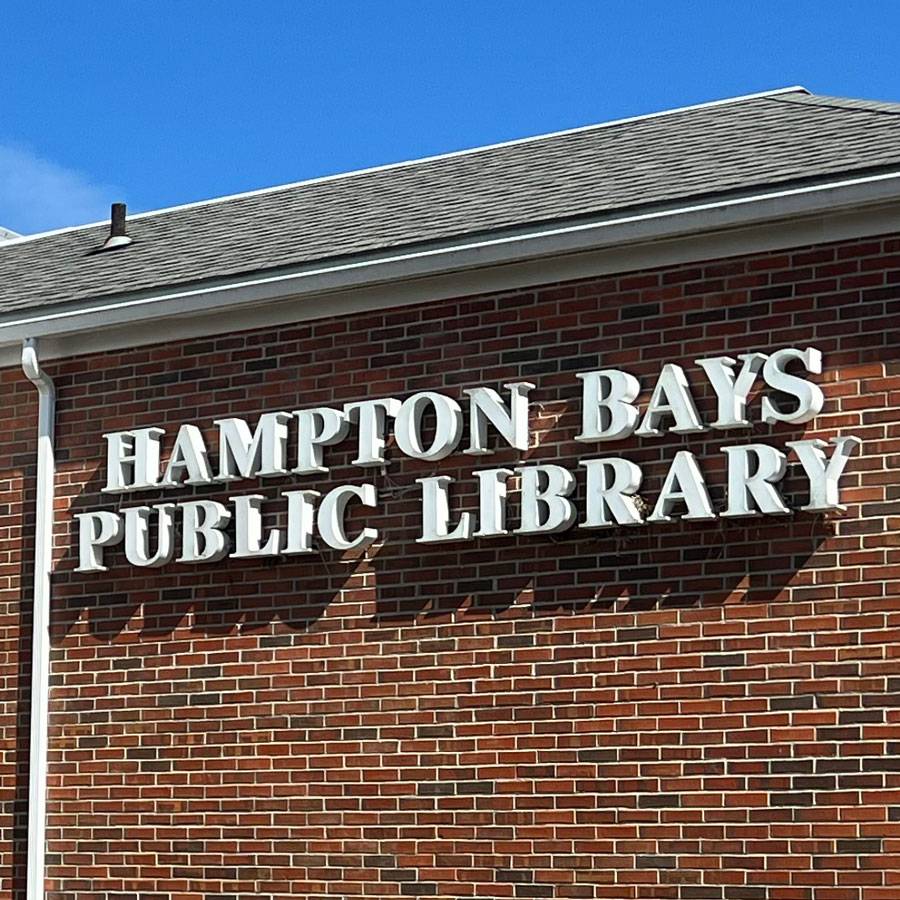 THE LIBRARY IS CLOSED FOR THE FOLLOWING HOLIDAYS:
New Year's Day (January 1)
Martin Luther King, Jr. Day (third Monday in January)
Presidents' Day (third Monday in February)
Easter Sunday
Memorial Day (last Monday in May)
Juneteenth (June 19)
Independence Day (July 4)
Labor Day (first Monday in September)
Indigenous Peoples' Day/Columbus Day (second Monday in October)
Veterans' Day (November 11)
Thanksgiving Eve (3:00 pm closing)
Thanksgiving (fourth Thursday in November)
Christmas Eve (December 24)
Christmas (December 25)
New Year's Eve (December 31)
The Hampton Bays Library serves our community by providing educational, cultural and recreational resources for life long learning.
The Hampton Bays Library Association held its first meeting in 1922. The Association operated out of a number of locations over the years until the Hampton Bays Public Library opened with a provisional charter in 1960 in a rented store-front on Main Street. In the same year, the Association sold a piece of property and purchased the present site at the corner of Ponquogue Avenue and Argonne Road. In 1962, the NY Telephone Co. donated and moved a portion of their old building to the Ponquogue Avenue lot. The building was modified several times over the following years.
On March 20, 1970, the Hampton Bays Public Library received its Absolute Charter from the New York State Board of Regents for and on behalf of the State Education Department. The library is governed by an appointed Board of Trustees dedicated to the mission of providing high quality library services at a reasonable cost to the community. In addition to providing full library services to the residents of the Hampton Bays School District, the Public Library serves the residents of the East Quogue School District with all of their library needs on a contractual basis.
Situated on library owned park like property with ample parking, beautiful plantings and outdoor benches, the Hampton Bays Public Library is an inviting, fully accessible public building that is the informational, cultural and recreational center of the Hampton Bays Community.  In 2003 the Hampton Bays Public Library completed a renovation and expansion project that increased it to its current size of approximately 20,000 square feet.  In October of 2006, a new Teen Services Department opened in a previously unfinished area in the lower level.
The Hampton Bays Public Library has a collection of over 82,500 physical items including books, magazines, music, audio books, and DVDs, as well as electronic databases and a vast collection of free downloads of eBooks, audio books, music and videos. The library has more than 30 computers for public use and wireless access. The library offers a wide variety of programs for community members of all ages. Visiting the Hampton Bays Public Library or the library's web-site provides visitors with a world of information. We are proud to serve the residents of Hampton Bays and East Quogue.